The Resurrect Rosenberg Concert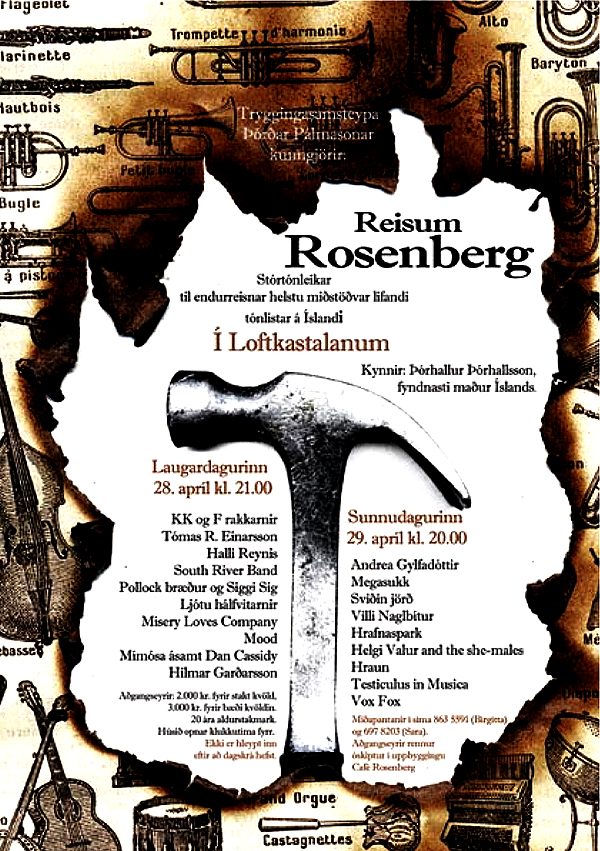 THE THORDUR PALMASSON AKA DODDI

INSURANCE FOUNDATION PROUDLY PRESENTS

THE
RESURRECT
ROSENBERG
CONCERT

DEDICATED TO THE RESURRECTION
OF ICELANDS GREATEST MUSIC VENUE
AT THE LOFTKASTALA THEATRE

- MC: THORHALLUR THORHALLSSON -

THE FUNNIEST MAN IN ICELAND

SATURDAY . APRIL 29th . 9 P.M.
SUNDAY . APRIL 29th . 8 P.M.
ANDREA GYLFADOTTIR

KK AND THE TRENCHCATS

MEGASUKK
( MEGAS AND SUKKAT )

TOMAS R. EINARSSON
SCORCHED EARTH
HALLI REYNIS WILLY
THE CLAWHAMMER
SOUTH RIVER BAND
RAVEN KICKS
POLLOCK BROTHERS AND SIGGI SIG
HELGI VALUR AND THE SHE MALES
THE UGLY IDIOTS
LAVA PRISON
MISERY LOVES COMPANY
TESTICULUS IN MUSICA
MOOD
VOX FOX
MIMOSA WITH DAN CASSIDY
HILMAR GARDARSSON

ADMISSION :
2.000 KR ONE NITE - 3.000 KR FOR BOTH NITES
HOUSE OPENS 8 P.M.


ALL TICKET SALES DONATED

DIRECTLY TO THE RECONSTRUCTION

RESURRECTION OF CAFE ROSENBERG

Help Resurrect Cafe Rosenberg!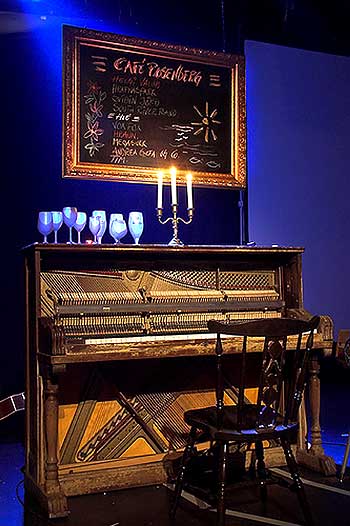 Save The Cafe Rosenberg Petition! Sign the petition to the city officials allowing Cafe Rosenberg to stay in the same space, and allow Doddi to keep up the good work he has been doing for the Icelandic music scene. Help keep The Cafe Rosenberg where it is and continue to keep this vital powerpoint of musical culture in Reykjavik thriving! Click Here To Sign The Petition!



For More Information, Music, Video and Photos
Visit www.myspace.com/reisumrosenberg